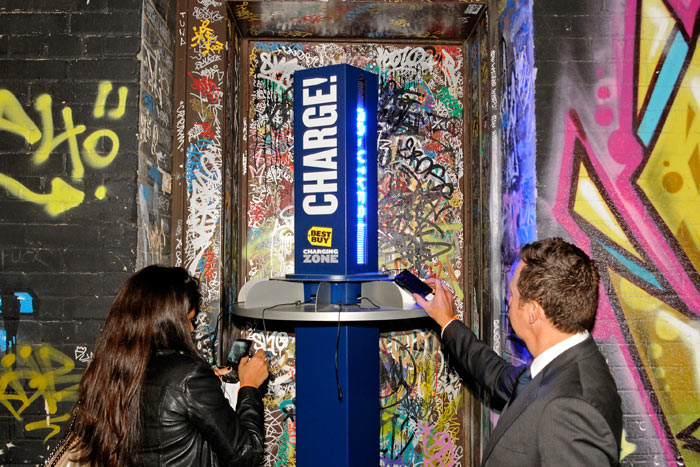 Create a buzz on your stand with charging stations
Posted on March 12th, 2018 in Engaging Experiences, Event Technology
With each new event you visit or exhibit at, you'll find that the technology present has come on in leaps and bounds. Whether it's something new or reworked, something trivial or useful, technology has a way of wowing people and creating an experience that may be impossible to otherwise achieve.
One of the best recent additions is the charging station, with the benefits two-fold. Not only is a charging station a lifesaver for attendees who need a quick boost on their phone or laptop, but its a great way to drive visitors to your stand and retain them.
Charging stations to benefit networking
One of the main reasons to attend an exhibition is to meet people in your industry. Whether you want new clients, new colleagues or just new contacts, it's a great place to find like-minded people.
Despite this, some people struggle with networking because they're not confident approaching people. However, like smokers often talk while outside on a break, charging stations give people a platform to speak at.
Special device chargers have been created that come out of tables, benches, lounges and counters – all areas for people to comfortably congregate and break the ice about what they've seen or what they're hoping to achieve.
Charging stations to benefit concentration
Some conferences and seminars opt for a phone-free policy, either as a blanket ban or just during presentations and talks. Opinion is divided on this practice, but the idea is that it makes people less distracted so they can focus more on the event.
To facilitate this, there are a number of options. Reception desks with charging capabilities mean that all devices will be watched by an employee for security, while storage box stations mean that attendees can lock away their phones while they're charging.
These lockable options come in a variety of formats, from plain and simple to feature pieces with rustic designs or enlarged displays showing a real-time charging status.
Charging stations that give information
If you're not providing the option to lock away phones, then your attendees are going to want to wait with their devices while they charge. The main problem is that people don't have anything to do while their phones are charging, leading to downtime or trying to use their phones while they wait, reducing the effectiveness of the charge.
Give them something to occupy themselves with by placing event information nearby. This can be something simple like timetables of the day's events, live streams of talks that are going on or maps of exhibitors' locations.
Partner with the leading exhibition and conference organiser to uncover your event's potential
Successful events start with a conversation! Exhibitions and Trade Fairs (ETF) is a full service organiser with over thirty five years experience in trade and consumer exhibitions, conferences and events. Our goal is to provide exhibitors, sponsors, visitors and the industries they represent with an effective opportunity to meet to do business, network and learn. Have an obligation-free chat with our team today by sending an online enquiry or by calling us at +61 2 9556 7999.