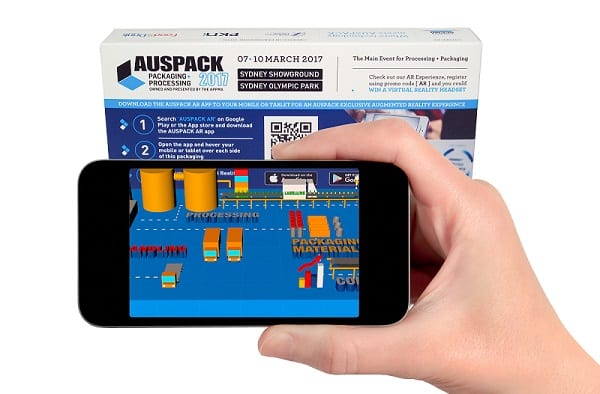 ETF's highly innovative campaign delivers biggest Sydney AUSPACK
Posted on March 5th, 2017 in News
On the back of the most innovative campaign in the history of AUSPACK, the 2017 show was a resounding success, breaking a host of records for the event's Sydney staging.
Anne-Marie Mina, Marketing Manager with Exhibition and Trade Fairs (ETF), the organisers of AUSPACK, said, "As well as being the most innovative, the AUSPACK 2017 campaign was also the biggest that ETF has ever delivered across any show in its portfolio.
"The 30th anniversary of the biennial event, held in 2015 in Melbourne, was the biggest in its history. AUSPACK is the premier expo for the processing and packaging industry, so we wanted to make sure we kept the momentum going."
Ms Mina said the innovation in ETF's campaign for AUSPACK 2017 began with the pre-show augmented reality (AR) experience.
"This creative initiative – the first time it's been done for AUSPACK – was a physical-to-virtual promotion, taking potential visitors into an immersive experience of what the show offered. It was a unique direct marketing element that set the level of excitement and engagement that visitors could expect at AUSPACK."
She said other pre-show direct marketing initiatives included video interviews and themed e-newsletters.
"Video is now a very popular way to research and access information, so it was a great avenue for ETF to offer potential visitors, allowing them to choose and view tailored material that would specifically help their businesses. We were really pleased to hear feedback that this approach resulted in visitors being in a strong position to make the most of their time once they arrived at AUSPACK.
"Our pre-show newsletters included thought leadership and Q&A pieces, along with new products and services from exhibitors. These were all themed, again enabling potential visitors to choose information for their particular business interests as well as allowing exhibitors to best position their products and services. And of course we took advantage of the animation trend across all our marketing, from digital banners to digital magazine front covers."
Ms Mina said once AUSPACK kicked off, ETF continued to make use of video's popularity by livestreaming short interviews with exhibitors via Facebook. "This was a perfect platform to give an overview of a wide variety of products and services, again to the benefit of visitors and exhibitors."
She said further innovations during the show included interactive digital signboards and the customer service robot AMY.
"All our on-site initiatives were about customer service and enhancing the experience for visitors. The interactive digital signboards are just like the ones people are familiar with using in shopping centres, while they found the AMY robot was super easy to use. It was a great point of difference. Brought to AUSPACK by Exaptec and sponsored by Matthews, AMY greeted visitors walking in the door, answering questions such as where was a particular exhibitor, the meeting rooms or the food area. Being able to get quick answers like this helped both visitors and exhibitors. It was very exciting to have this for the first time.
"Event data shows visitors and exhibitors found the multiple on-site experiences to be excellent inclusions because they were such great ways to engage people and optimise their show visit in an exciting way."
Ms Mina said ETF's visual, on-point messaging crafted a solid direction for AUSPACK 2017.
"The high-level content we produced kept visitors engaged, which clearly helps exhibitors. ETF is in the business of marketing and this was one of the biggest, most innovative marketing campaigns ETF has planned and executed. The result was a show that stood out on so many levels: just on numbers alone, it was the biggest Sydney show in AUSPACK's history in terms of visitor numbers, the largest contingent of international exhibitors,overall exhibitor numbers and floor space.
"Analysis shows AUSPACK 2017 was a resounding success and ETF was absolutely delighted to bring such value to the APPMA, the owner of this important event."
Ms Mina said AUSPACK 2019 would be held at the Melbourne Convention and Exhibition Centre. "ETF looks forward to delivering yet another amazing experience for Australasia's premier event of the processing and packaging industry."
For more information on AUSPACK 2019, please visit www.auspack.com.au.
Partner with the leading exhibition and conference organiser to uncover your event's potential
Successful events start with a conversation! Exhibitions and Trade Fairs (ETF) is a full service organiser with over thirty five years experience in trade and consumer exhibitions, conferences and events. Our goal is to provide exhibitors, sponsors, visitors and the industries they represent with an effective opportunity to meet to do business, network and learn. Have an obligation-free chat with our team today by sending an online enquiry or by calling us at +61 2 9556 7999.