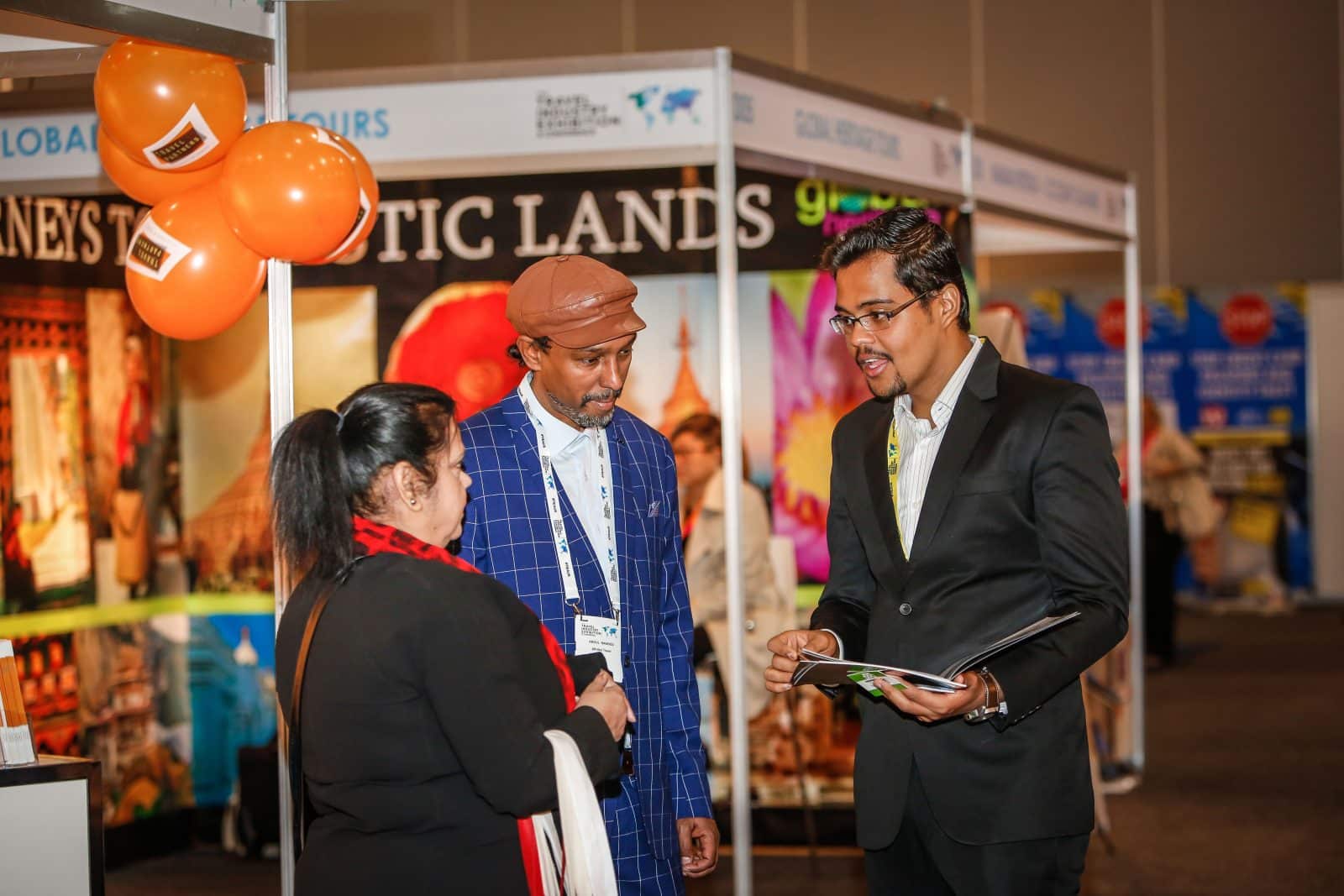 An easy-to-follow guide for exhibition stand staff
Posted on April 12th, 2018 in Exhibition First Timers, Exhibitor Information, Stand Etiquette
No matter how great your planning, your marketing and your stand are, if your staff seem rude or disinterested, it's unlikely you're going to have a successful exhibition. There's nothing particularly difficult or taxing about good exhibition etiquette, but the benefits of following a few simple rules can be incredible.
Have a dress code
The term 'dress to impress' has never been more important for your company than at an exhibition. Smart business wear is the go-to dress code for industry events, as it's one that implies professionalism.
Certain exhibitions can benefit from staff dressing down a bit. For example, at a motoring event you can carry off a more genuine air by wearing mechanics' overalls – just be sure to splash out on a new, clean set for the event.
Wearing comfortable shoes is also important for those who are going to be on their feet all day, but this must be tempered with the overall look of the outfit and your stand.
Wear name tags
Along with a uniform of sorts, having a name tag helps identify who's working at a stand. It puts attendees at ease because, after meeting so many people at an event, it's common to start forgetting names. Having a name tag reduces the anxiety of having performed that social faux pas, and means people can chat to your team more comfortably.
Avoid distractions
Even when your stand is quiet and it seems like everyone's avoiding you, it pays to be alert. Sneaking a quick sandwich or having a look at your Facebook updates on your phone not only looks unprofessional, it means you can miss a potential customer walking by while your attention is elsewhere.
During quiet times, it can be tempting to chat among your colleagues or with those in nearby stands, but this can be off-putting for people who don't want to interrupt. While a quick catch up can be beneficial, always cut your own conversations short in favour of speaking to other attendees.
Keep the stand tidy
Hopefully, you'll be busy throughout the day, but it's still important to take a second to make sure everything at your stand is in order. Throw away any empty coffee cups left by visitors, keep leaflets tidy and make sure that all your promotional material is well-stocked. While being slightly unkempt can be a sign that you're busy, there's a fine line before you look unprofessional.
Be cheery
No matter what sort of day you're having, it's important to stay upbeat at an exhibition. Everyone you speak to is a potential customer, and making sure they feel valued and like you want to talk to them is vital.
Opening conversations with a cheery hello and a well-rehearsed line about your company, its products and how they can benefit others can help you get more leads.
At the end of the day, it's your staff who are not only representing your company, but also selling its benefits. If they seem sullen, unprofessional or like they want to be elsewhere, it's a lot harder for them to engage with people and convince them to do business with you. It doesn't take much to change this perception, but it does have a huge impact.
Partner with the leading exhibition and conference organiser to uncover your event's potential
Successful events start with a conversation! Exhibitions and Trade Fairs (ETF) is a full service organiser with over thirty five years experience in trade and consumer exhibitions, conferences and events. Our goal is to provide exhibitors, sponsors, visitors and the industries they represent with an effective opportunity to meet to do business, network and learn. Have an obligation-free chat with our team today by sending an online enquiry or by calling us at +61 2 9556 7999.