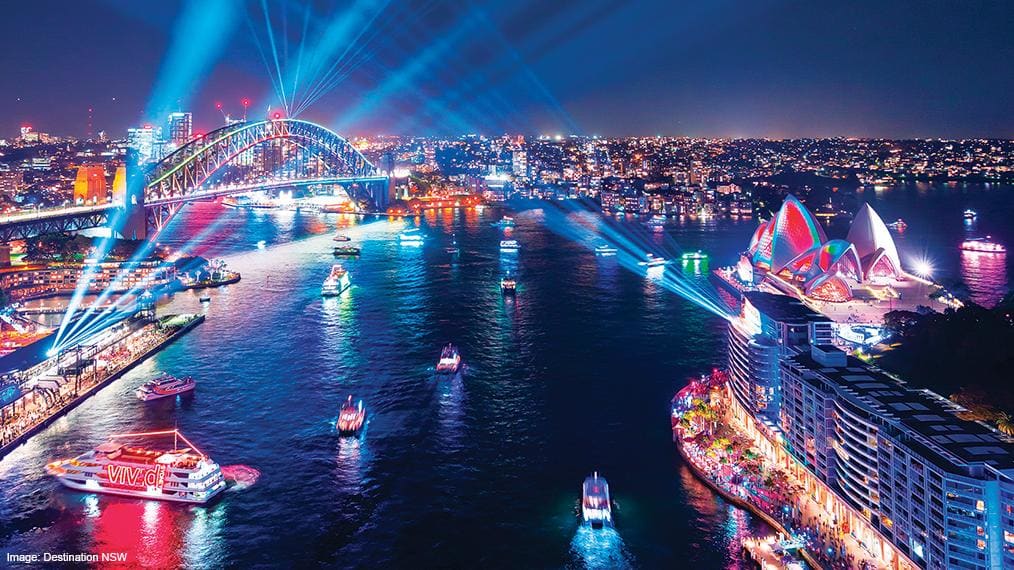 Vivid Festival titan and creative powerhouse join The Business of Events
Posted on February 21st, 2020 in Engaging Experiences, News, The Power of Events
If you've ever wondered how to vividly engage an audience's attention, or amplify your message, then The Business of Events 2020 is for you.
Standing out from the 'noise', and really attracting your audience's attention is all about being different. The 'New Thinkers: Dare To Be Different' session puts some amazing creatives, who have designed and executed really cool, iconic experiences and campaigns right in front of The Business of Events attendees. This is a rare opportunity to understand how these global high-achievers have triumphed as they have.
Tim Baggott, creative director of Amplify, has created experiences for world-respected names such as Google, Volvo Cars, Help Refugees and Elton John; and Anthony Bastic, who's behind Sydney Vivid, Alice Springs' Parrtjima, Lights of Boston, Singapore's iLight Marina Bay and Oz Fest New Delhi are among a host of thinkers and doers that have been added to the line-up.
Anthony is Founder and CEO of AGB Events. Since a small child, he's loved creating cultural experiences, and captivates audiences with light and sound at the heart of his visual storytelling. Many people are familiar with Vivid: it's the largest festival of light, music and ideas in the southern hemisphere. Last year he created 'Treasures Illuminated' at the Australian Museum. In his truly captivating manner, Anthony basically unlocked 200 of the museum's treasures from their glass cabinets and brought them to life. It was mesmerising.
Anthony will also talk about why integrating the visuals into events is important, and will share some insights around projects he's worked on.
Tim Baggott's work focuses on the customer and their experience at events.
Tim uses a multi-disciplinary approach and will talk about creating some absolute flip-out avant garde brand experiences for Elton John, Nespresso, Nike, Secret Cinema, Universal, Xbox, Google and several car companies, including Volvo and Volkswagen. He's a mentor and judge for AKQA Future Lions, where entrants are given a brief to connect an audience of their choosing to a product or service from a global brand in a way that wasn't possible three years ago. These will be such exciting things for The Business of Events 2020 attendees to hear.
Understanding why producers of events need to deliver more consumer-centric experiences, and then taking away the insight on how to do it from the amazingly creative minds just in this session alone will give delegates to The Business of Events 2020 so much information they can use.
The Business of Events 2020 is on Thursday 19th March 2020, at Sydney's Luna Park. Check out www.thebusinessofevents.com.au for more info,
Successful events start with a conversation! Exhibitions and Trade Fairs (ETF) is a full service organiser with over thirty five years experience in trade and consumer exhibitions, conferences and events. Our goal is to provide exhibitors, sponsors, visitors and the industries they represent with an effective opportunity to meet to do business, network and learn. Have an obligation-free chat with our team today by sending an online enquiry or by calling us at +61 2 9556 7999.