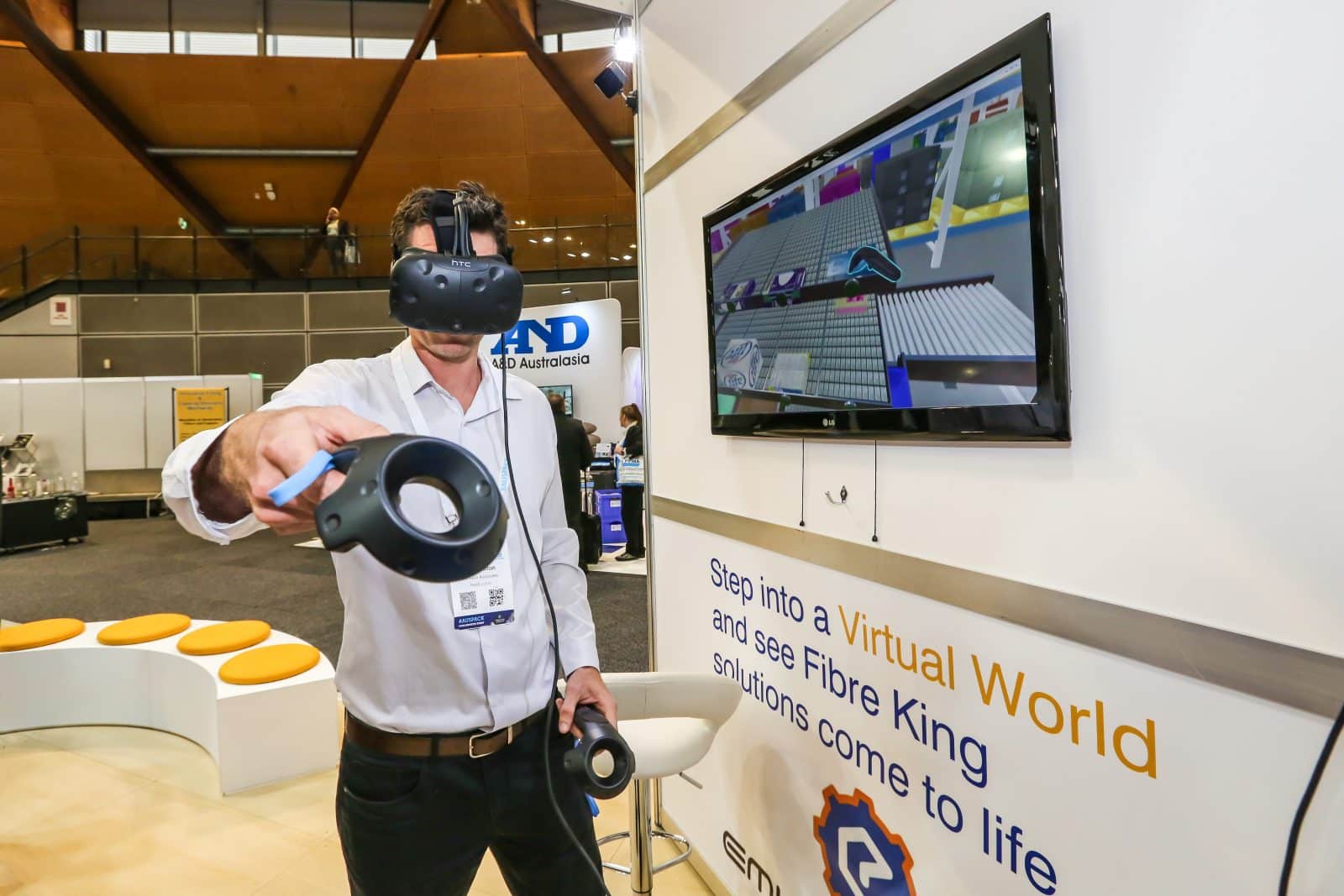 3 ways virtual reality can improve your stand
Posted on April 2nd, 2018 in Engaging Experiences, Event Technology, Event Trends, Virtual Reality
Attending exhibitions and conferences is a great way to grow your business, but you have to make sure you do your work to stand out. You won't be the only company in your field there, so you need to make sure potential customers are drawn to your stand so that you have a chance to convert them.
Virtual reality – known to some as augmented reality – is a fast-developing technology that's proving its worth at events around the world. It's the sort of thing that wows a visitor and makes them remember you and your stand.
There are two ways you can use augmented reality – one is in an immersive world with a headset; the other with 3D modelling on a handheld device.
Send customers to a better place
Augmented Reality takes people away from the exhibition floor to somewhere bigger and better, and may say more about your brand that printed brochures. This can be particularly useful for the travel industry, where you can send someone to an exotic beach or to explore a luxurious hotel, but other professions like architects, builders and car dealers, to name a few, can also use the technology to immerse their customers in unique experiences.
Another way to draw people in is to have a VR game at your stand. If you're at a fishing expo, you can have a fishing game. If you're at a car show, simply run a racing game. With exhibitions, you have a good idea of what people want, so it's easy to pick a relevant game or two to get people talking about your stand.
Show special products
There's nothing better than taking a physical version of a product to your show. Visitors can pick them up, play with them and poke them to their hearts' content, however there are times when this isn't practical.
If you have a big store jam-packed with products or large machinery, or a showroom full of classic cars, it's unlikely you can take everything with you. Virtual reality lets you bring the whole store with you. A few physical items will get people interested, but the VR mode of your shop will let people see how much more you have, and you may be able to entice them to see you if something takes their fancy.
If a product has been announced but isn't available yet – whether that's a car, a boat or something else – virtual reality goes above and beyond the other marketing material that will be widely available. People will be able to have a look around the whole product and see it from angles that would be hidden in a 2D photo.
Create engagement
One of the most important things to do at a trade show is to engage with potential customers. Virtual reality is a great way to draw people in, to get people talking about you and to make them remember your name.
Once you have this engagement, you'll find that people are a lot more willing to come to your stand and speak to you about your products, making it a lot easier for you to build your client base.
Partner with the leading exhibition and conference organiser to uncover your event's potential
Successful events start with a conversation! Exhibitions and Trade Fairs (ETF) is a full service organiser with over thirty five years experience in trade and consumer exhibitions, conferences and events. Our goal is to provide exhibitors, sponsors, visitors and the industries they represent with an effective opportunity to meet to do business, network and learn. Have an obligation-free chat with our team today by sending an online enquiry or by calling us at +61 2 9556 7999.