Think exhibitions are out of place in a digital world? Think again!
80% of people spend more with companies they know.
Exhibiting gives customers – both existing and potential – the opportunity to know you in a way that no other marketing channel can.

Live events are highly effective forms of marketing!
Exhibitions are powerful marketplaces that connect buyers and sellers. They are one of the most resilient forms of marketing, and the value and strong return on investment (ROI) they offer businesses make them a crucial part of any marketing strategy. No communication method is more direct or more interactive than a face-to-face conversation. This is what exhibitions are all about.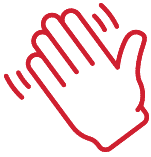 Exhibitions allow you to interact with your target audience face-to-face.
They bring your most active prospects and customers to you. Right there in front of you, ready to talk, listen and buy.
This is simply not possible with any other marketing form.

The average visitor spends 5.5 hours at an event...
…which equates to watching or listening to 660 broadcast ads.
Exhibitions are:

more powerful than television ads

more effective than printed media

more effective than radio
Being face-to-face and engaging with people also gives you the opportunity to win back lapsed business, and of course, gives you the perfect opportunity to close sales.
Exhibitions allow you to advance all your marketing goals:
Exhibitions allow you to create a total customer experience with your brand. This is a "money-can't-buy" experience; the customer experience they can only have with you.
They can…
See, hear and feel how your brand, product or service will help them, and depending on what it is, they can smell and taste your product. They get an well-rounded sense and understanding of your product that can only happen in person.

Exhibitions are part of the marketing mix – a highly effective part.
We're social animals. People buy from people, and with exhibitions leaving a lasting impression, make sure your marketing strategy includes exhibiting.
Credit: Statistics provided by the Exhibition & Events Association of Australasia and Facetime UK.