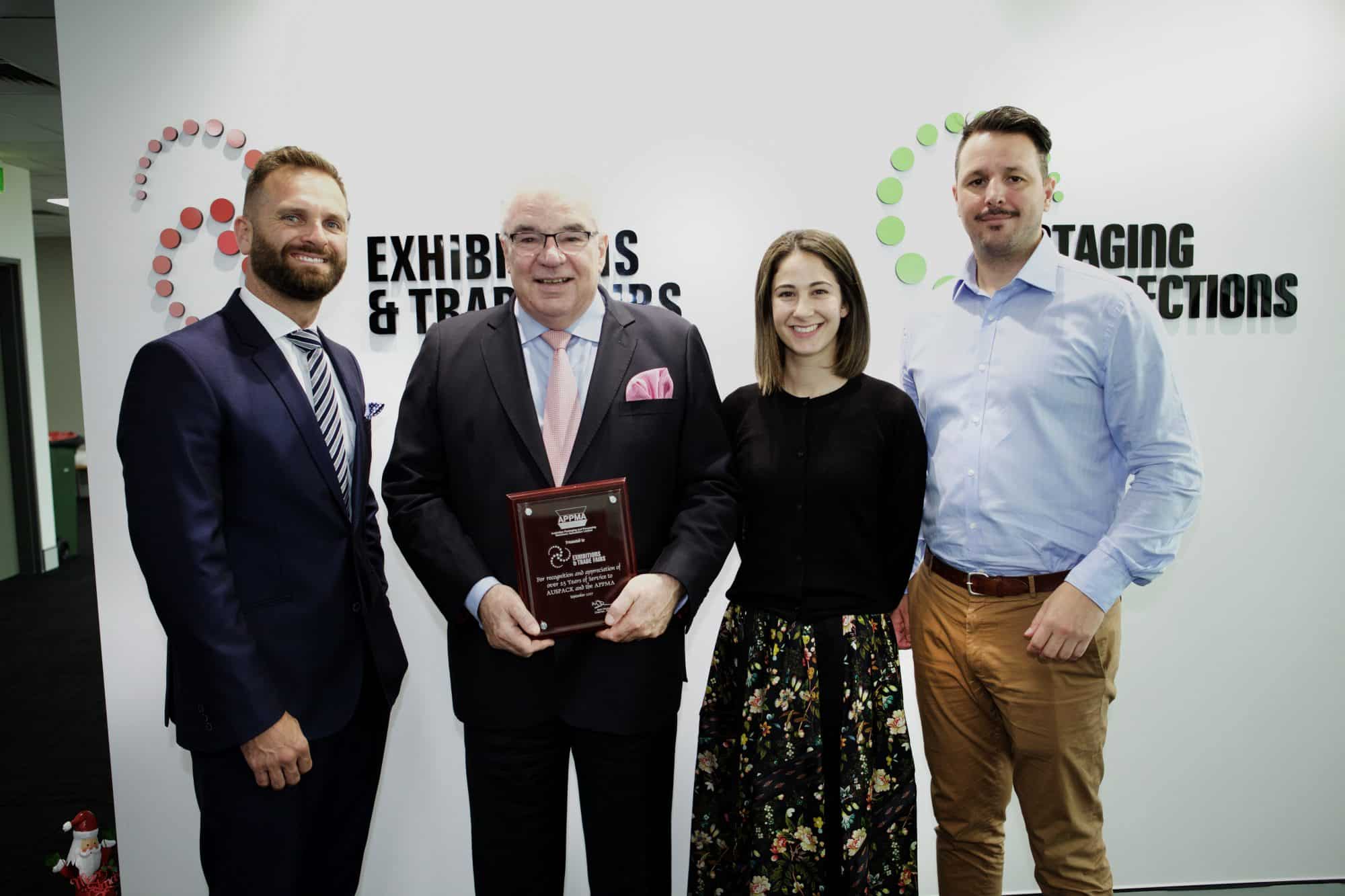 APPMA AND ETF CELEBRATE 25 YEARS OF PARTNERSHIP
Posted on June 19th, 2017 in News
The Australian Packaging & Processing Machinery Association (APPMA) are pleased to announce that they recently celebrated over 25 years of partnership with Exhibition & Trade Fairs (ETF).
According to Mark Dingley, Chairman of the APPMA, 'ETF have represented the APPMA to successfully bring AUSPACK to the industry year-on-year for over 25 years, which is an indication of the strong and valued partnership that we have with the team.'
'ETF continue to raise the bar for every AUSPACK we run and the professionalism of the show, quality of visitors, numbers of exhibitors and the growing international participants are evidence of their hard work and commitment to our exhibition. ETF are a part of the APPMA family and we look forward to celebrating 30 years partnership with them in the not-too-distant-future." Mr Dingley said.
Mr Gary Daly, Managing Director, ETF, added that 'The sustained growth of AUSPACK over the past 28 years has evolved as a result of the continued focus on strategy and adding value through regular, dialogue between the APPMA and ETF.'
"The relationship between the APPMA and ETF is more than just delivering a successful AUSPACK, but about working together to increase the profile and economic value of the packaging and processing sector in Australia. The current strategy of building an increased value proposition for APPMA Members outside of AUSPACK remains a key focus, while AUSPACK will continue to be the pinnacle of the relationship. At ETF we are committed to working with the Board and management of the APPMA to continue to build the relationship and deliver on the commercial outcomes for the next 25 years." Mr Daly said.
AUSPACK 2019, will be held between 26 – 29 March at the Melbourne Convention & Exhibition Centre. For more information, please visit auspack.com.au.
Partner with the leading exhibition and conference organiser to uncover your event's potential
Successful events start with a conversation! Exhibitions and Trade Fairs (ETF) is a full service organiser with over thirty five years experience in trade and consumer exhibitions, conferences and events. Our goal is to provide exhibitors, sponsors, visitors and the industries they represent with an effective opportunity to meet to do business, network and learn. Have an obligation-free chat with our team today by sending an online enquiry or by calling us at +61 2 9556 7999.