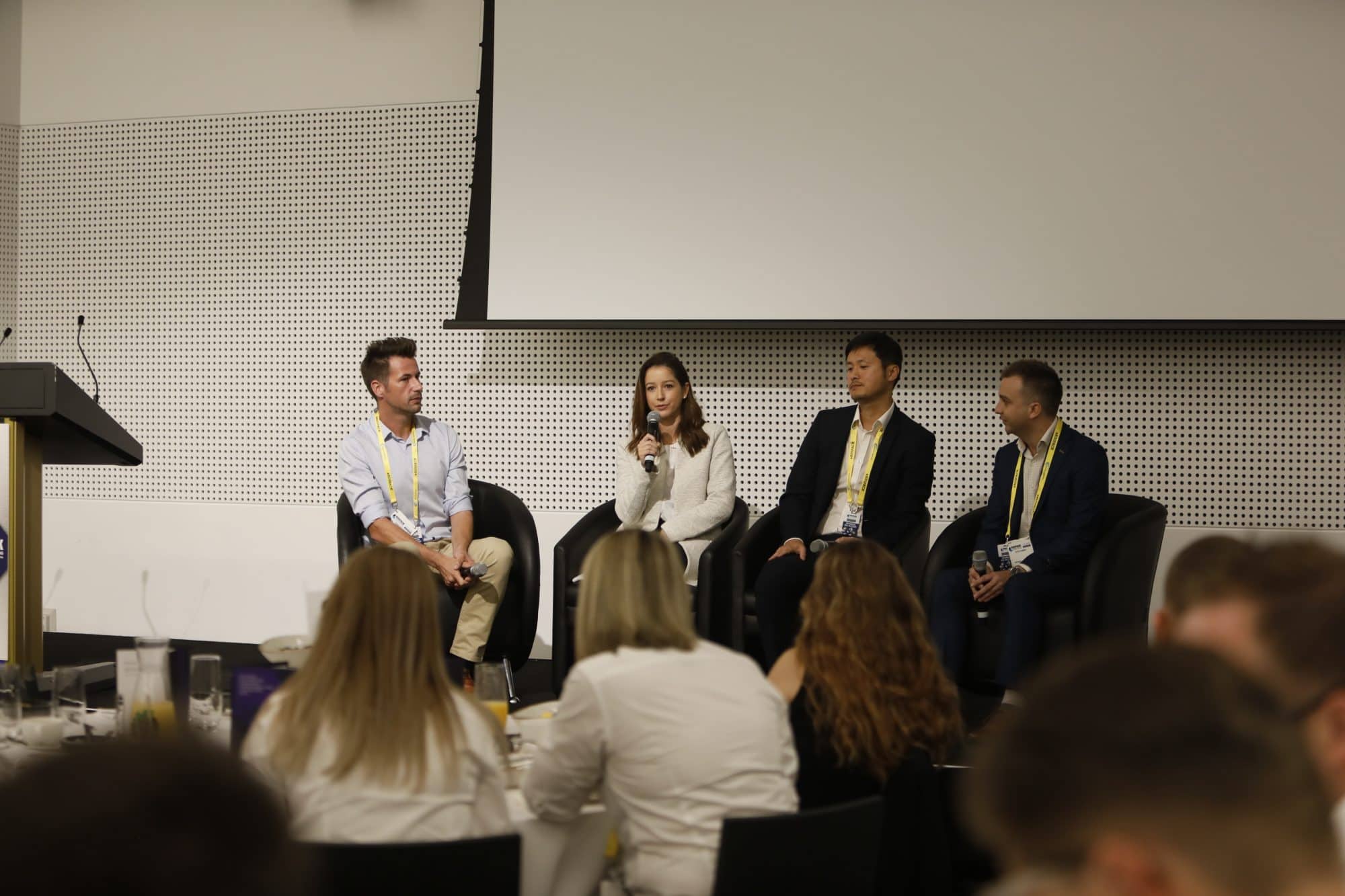 Why smashed avo and ping-pong tables won't keep Gen Z's skills in your workforce
Posted on April 16th, 2019 in Leadership
Having the right workforce skills in place is critical to business success. So how do you attract "the right" workforce skills into your business? And then, how do you keep them?
The name "Millennials" or "Gen Y" is familiar to many. Stories – whether urban myth or true –abound of their penchant for dining out on smashed-avocado breakfasts – with a vegan option, thank you – in lieu of working full-time to save for a house deposit.
But what about the generation after that: Gen Z?
Born between 1995-2009, making them between the ages of 8 and 22 now, by 2025 Gen Z will make up 27% of the Australian workforce. That's just six years away. So understanding how to harness their interests and skills to truly drive Australian businesses is vital.
In the powerfully informative NextGen Breakfast Forum at AUSPACK 2019 (organised by Exhibitions and Trade Fairs), experts unpacked that very information. Deliberately drawn from different industries, the business-leadership authorities were all from organisations leading the way on best practice around utilising the next generation in the workplace:
David Willey (panel host), founder of Growth Tank, one of Australia's prominent voices on understanding Millennials and Gen Z.
Peter Hammer, MD of Marketing Scientist Group, who conducts regular research on younger generations around advertising, media consumption, lifestyle insights and spending habits.
Sammy Major, Australian Sales Director for TRIBE, which is transforming the way brands can connect with leading influential content creators to create powerful 1:1 marketing campaigns.
Chau Tran, Digital Manager at Step Change, specialising in automation, developing multi-channel journeys, and optimising the client experience.
Justin Ling, Program Manager at PwC Australia, who has designed a contingent workforce solution in response to changing workforce needs.
And Gen Z, as it turns out, are not "mini Millennials"; in fact they have some quite different characteristics to their older counterparts, who were born between 1980 – 1994 and are aged 22-37 now.
First is what the different generations rate important in an employer or workplace.
For Millennials, financial rewards and benefits rank number one (61%), followed by a positive workplace culture (52%), flexibility of hours and location (50%) and opportunities for continuous learning (48%). For Gen Z, the spread is more even. A positive workplace culture comes first (57%), followed by financial benefits (51%), flexibility (44%) then opportunities for continuous learning (44%). Millennials are optimists, want to "be discovered" in the workplace, value "flexible variety" in work and have a prolonged adolescence. Gen Z are realists, strive hard for success in work, value "flexible stability" in work and are "up-ageing".
Having grown up in a digital sphere, Gen Z value face-to-face interaction over the digital communication preferred by Millennials. The younger cohort values equality and diversity as their number-one work principal, while Millennials value work-life balance, and while Millennials are motivated by career growth, Gen Z is after job security and fair pay.
Ping-pong tables, free beer and breakfast at work, while maybe appealing to Millennials, is not retaining Gen Z because it doesn't fit their values and desires in a workplace.
Steps to engaging Gen Z
Growth Tank's David Willey outlined the key steps to engaging the next generation:
Align with their goals and aspirations: know what they want to build in their careers; create a management-employee partnership; they'll work hard when given opportunities that help them provide for themselves; and give them chances to do great work, achieve goals and build their résumé toward what they want long term.
Gen Z seeks companies with a purpose beyond profit. They seek companies that give back to communities and go one step further for the environment.
They're after progression: so offer them clear, structured career progression; they may become restless in roles with limited career advancements, while rigid structures and resistance to cultural change are big detractors.
Gen Z is driven by personal, not just professional, development: so provide developmental opportunities that allow them to build relevant skills to create career security, with international experience seen as very positive.
Strive to offer them flexibility and encourage autonomy in when, where and how they work; understand that your employee's life is more important than their work, and be open to alternative work models.
Recognise their work-life balance: when evaluating job opportunities, they value this balance before career progression.
Encourage regular communication: provide regular career conversations, encourage recognition and provide mentoring opportunities; Gen Z appreciates having someone to turn to; and make sure as the employer you know what they are doing and how they are performing at it.
For Gen Z, it's about well-being not wellness: make it social and a game, incorporate it into your corporate culture; young workers are attracted to wellness programs that give them a voice and help them connect with others; take a holistic approach and include mental, social, and emotional support; offer a more holistic approach to wellbeing.
Engaging your staff is key: just 24% of employees in Australia are engaged, which has not changed in a decade, but measuring engagement isn't sufficient to improve it – as an employer, you need to act.
Workforce structures will also need to change.
Currently, workforces may be hierarchical, autocratic, have a top-down approach, be process focused, be all about measuring and have an annual feedback cycle. However, embracing the future workforce requires a networked workforce that's democratic and has coaching elements, with a bottom-up approach, is outcome focused, looks at improving rather than measuring and has a continuous feedback cycle.
For Gen Z, "employer branding" is very imperative. Indeed, Gen Z will review their employer online before considering to take an interview or accept a position, and they'll make sure they choose a company that aligns with their values as opposed to "any old job".
On LinkedIn, a company with a stronger employer brand than its competitors sees an average 43% decrease in the cost-per-candidate they hire.
On CareerBuilder, 67% of candidates would essentially accept lower pay if the company they were interested in had very positive online reviews.
78% of people will look into a company's reputation as an employer before applying for a job.
A strong employer brand leads to 50% more qualified applicants.
Future workforce skills
As technology advances, new services mean new skills are needed that may not have been brought to market before – or that may not even exist yet. Coupled with such future developments, a dynamic business environment will have a large impact on the skills needed.
So what skills will be required as we move through the 21st century? According to PwC research, by as early as 2020, complex problem-solving skills will be required in 36% of jobs, and more than a third of the desired core skill sets of most occupations need skills not yet considered crucial to the job today. These include: creativity, emotional intelligence, complex problem solving, judgement and decision making, cognitive flexibility, critical thinking, people management, coordinating with others, service orientation and negotiation.
So while understanding how to harness the interests, and then skills, of Gen Z will be crucial to ensuring Australian businesses have the right workforce skills for success, it was apparent at the AUSPACK 2019 NextGen Breakfast Forum that this understanding must come now – not in a few years, because 2025 is only six years away.
Successful events start with a conversation! Exhibitions and Trade Fairs (ETF) is a full service organiser with over thirty five years experience in trade and consumer exhibitions, conferences and events. Our goal is to provide exhibitors, sponsors, visitors and the industries they represent with an effective opportunity to meet to do business, network and learn. Have an obligation-free chat with our team today by sending an online enquiry or by calling us at +61 2 9556 7999.