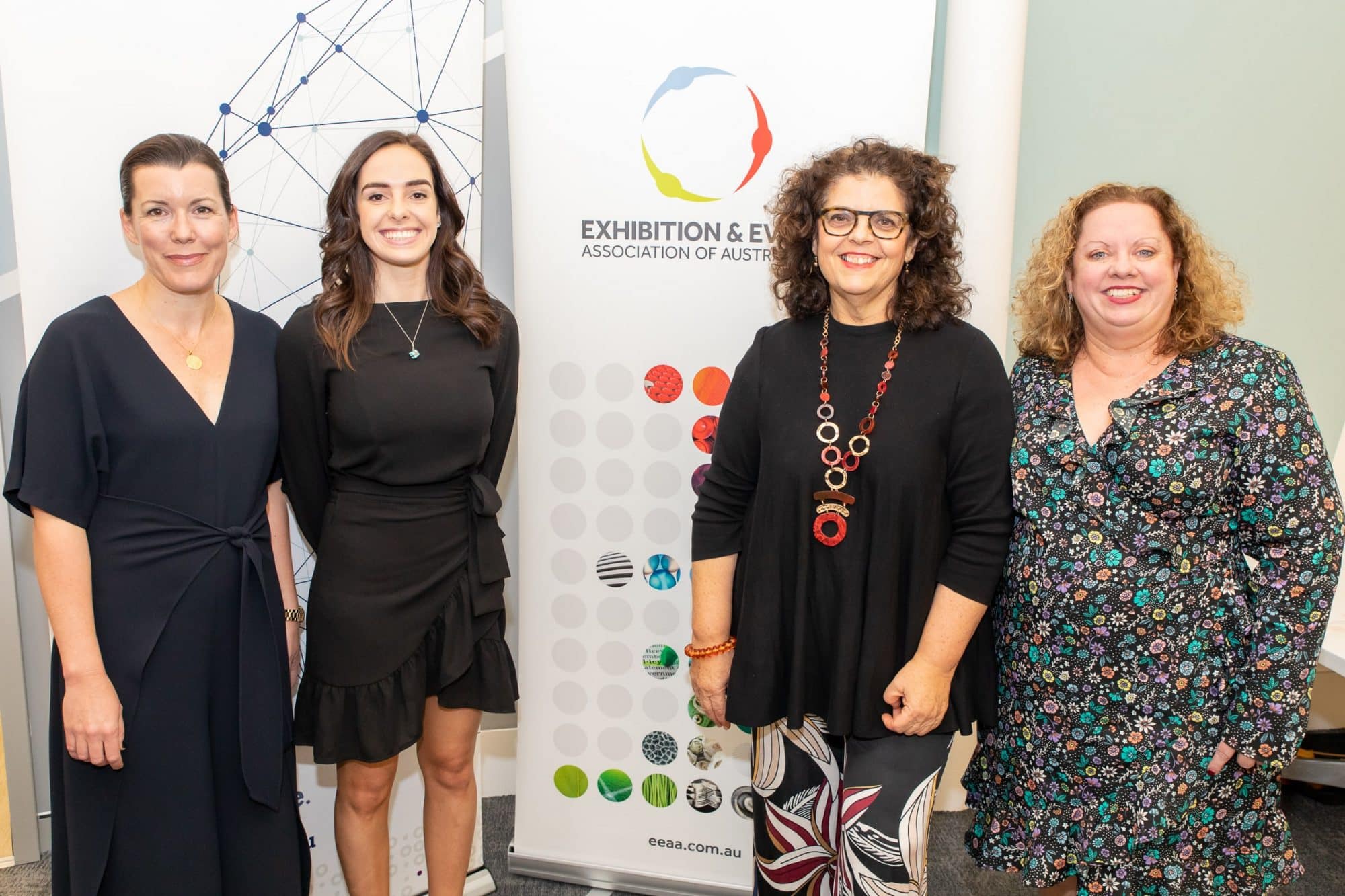 Festivalisation, developing talent and the events industry's digital transformation
Posted on May 10th, 2019 in Association Events, Engaging Experiences, Event Trends, Leadership, News, The Power of Events
by Georgie Chapman-Burgess, Operations Manager, ETF
Winner of the 2018 Richard Geddes Young Achiever Award
Festivalisation, how to develop talent, and the impacts digital transformation on the events industry were three of key themes discussed at the recent UFI Asia Pacific Conference in Tokyo.
Attending this conference was part of receiving the Richard Geddes Young Achiever Award as part of the Exhibition & Event Association of Australasia's 2018 Awards for Excellence and the experience was sponsored by Tourism Australia.
The conference's overarching theme was "Facing the Future" and covered a myriad of opportunities and challenges for the global event industry now and into the future. There were three key themes that continually arose and grabbed my attention the most. These were:
1. Talent development: education + engagement = retention
2. Digital transformation: from digital natives through to digital event infrastructure
3. Evolving events: AI is on our doorstep and the notion of "festivalisation"
Talent development
A variety of speakers expressed the importance of nurturing and developing talent in order to retain them in the industry.
One solid strategy to attract and retain young talent is job rotation, where employees switch between countries, departments and offices. Spending time in different markets and roles allows employees to acquire highly valuable new skills and perspectives, experience diverse cultures and learn different show teams' best practices.
The importance of building cultural diversity within companies was covered, with three key reasons being to improve workplace culture (78%), to improve company performance (62%), and to better represent their customers (49%).
Companies need to be positioned as employers of choice in order to attract top talent and a instrumental way of doing so is to place a greater emphasis on branding: it's not about who they say you are, it's about who they think you are. Potential talent needs to feel this is the team and show they want to work with before being employed.
Research showed that while 78% of organisations are focused on promoting talent within, only 41% have solid processes and just 43% understood current skill gaps. To promote internally, organisations need to identify ways to bridge the skills gap and support the talents' needs as they progress through their careers. I have witnessed employers' lack of understanding here, and without the supportive framework, the talent suffers and leaves, resulting in a reputation where employers find it easier to recruit externally.
Looking at how the digital era has evolved will allow employers to address needs by understanding how to implement strategies to develop and retain talent. Whether "rare digital talent" will stop at the exhibition industry was contested in a panel. ("Rare talent" refers to individuals with a highly unique skillset, niche to a particular market.)
One view was that the industry fails to understand and support rare digital talent's needs, pushing them away from exhibition companies to the likes of Google or Microsoft. Another's believed the exhibition industry has a cultural problem, and a flatter organisational structure and supportive company culture will retain rare talent.
Digital transformation deep dive
How digital transformation has evolved with technology infrastructure was a hot topic. Ten years ago, companies wanted to be in the top 10 search; with smartphones, they needed to be in the top five; now with voice-assistance devices (Google Home, Amazon Echo), they need to be first.
Research analysing the transformation of digital, modern workplaces, business applications, productivity and infrastructure suggests the modern working landscape decreases productivity. Despite changes to encourage interaction, the opposite has occurred, with participants spending 72% less time interacting in open-space environments.
Moving business applications from "on-premise" to the "cloud" has impacted business hours. Once we defined our business hours, now customers set them by driving dynamic channels, for example, connecting via 24/7-accessible, social-media platforms. Productivity and infrastructure have advanced at incredible speeds: projects once managed with a desktop PC, then a mobile phone, are now handled from smartwatch devices.
Technology also exists to enhance customer experiences. From my experience, no matter how great the technology, it comes down to affordability, so when a team wants to enhance the visitor experience, seamless registration processes and use Artificial Intelligence (AI) to personalise experiences, the answer may be we "we can't afford it, let's use PCs and let visitors wait in a queue".
Festivalisation, AI and event evolution
The final key theme is event evolution, how AI is on our doorstep, and the concept of "festivalisation". AI's goal is to create technology that operates in a human-like intelligent, functional manner. On one side, the belief is that AI is changing the exhibition industry completely; for example, US Fortune 500 companies now use deep-text and deep-face to prepare for a sales meeting. An opposing speaker view believed AI will not disrupt the industry, being time consuming to manage, with product-delivery expectations set too high.
Further research suggests 85% of people fail in big data; while most organisations produce a report, they neglect data discovery, thus leaving no data insight. Regarding my own consequent views on AI, I feel it is difficult to form an opinion on its direction and while advancements aren't that far into the future, we are still a long way to delivering the technology that meets our expectations of AI.
The conference introduced new, exciting buzz words. One that I found fascinating is "festivalisation", introduced by a company that merged five brands (music, sports, gaming, and digital & marketing) into a three-day Business-2-Business-2-Fan event connecting business, brands, celebrities and fans on a multi-level platform event. The challenge was given to B2B and B2C organisers to "exhibitionise" festivals and look for innovative ways to bring B2B and B2C events together.
I am excited to see how the exhibition industry is evolving to meet the tech-savvy generation's needs, and what innovative events are just around the corner.
Finally, I am grateful for the people I met on this UFI journey and those I continue to engage with. It was extremely humbling to feel part of this connected, supportive community.
Successful events start with a conversation! Exhibitions and Trade Fairs (ETF) is a full service organiser with over thirty five years experience in trade and consumer exhibitions, conferences and events. Our goal is to provide exhibitors, sponsors, visitors and the industries they represent with an effective opportunity to meet to do business, network and learn. Have an obligation-free chat with our team today by sending an online enquiry or by calling us at +61 2 9556 7999. 
Pictured from left to right; Kelly Maynard, Business Events Distribution Development Manager, Tourism Australia; Georgie Chapman-Burgess, Operations Manager, Exhibitions & Trade Fairs; Joyce DiMascio, Chief Executive, Exhibition & Event Association of Australasia; and Ros Farrar, Events Innovation and Strategy Manager, Tourism Australia. Image Credit: Tony Newby.